Old Glory - Papua New Guinea - Fair Trade
Regular price

Sale price

$17.99 USD

Unit price

per
The Red, White, & Blue....what hasn't been said about Old Glory?  Our flag stands for freedom. An idea, not JUST a country. Always has. Always will.  Grab some of this tasty coffee from the island of Papua New Guinea, brew it up, take a sip while looking at the Star Spangled Banner, and be filled with pride.
This coffee comes to us from Cafe Imports and is certified Fair-trade and organic.  Please have a look below at some info about this coffee:
Keto Tapasi Progress Association was founded in 2008 as an association of smallholder coffee growers from 18 communities and villages in the Eastern Highlands of Papua New Guinea, in the Chuave District. The organization has around 375 members, who cooperate and collaborate despite the vast differences in both culture and language between their heritage groups. The organization has been Fair Trade–certified since 2011 and certified organic since 2014, and has used the premiums it receives to invest in depulpers as well as warehouse space and transportation.
Smallholders typically own anywhere from a couple to a couple-hundred coffee trees, and sustenance farming on these more "garden-like" plots is common; they call them coffee "gardens," in fact, rather than farms, and the farms themselves have no names and carry no formal demarcation to indicate where one neighbor's land ends and the other's begins. Generally, the farmer members will depulp and ferment their coffee on their own farms; it is bought and sorted in parchment at the central mill in Goroka for drying.
Tasting Notes - praline, almond, toffee, fresh coffee cherry, tart acidity

**MEDIUM ROAST**

Fair trade, Organic
Washed process
1600-1800 meters
Variety: Arusha, Bourbon, Typica
Share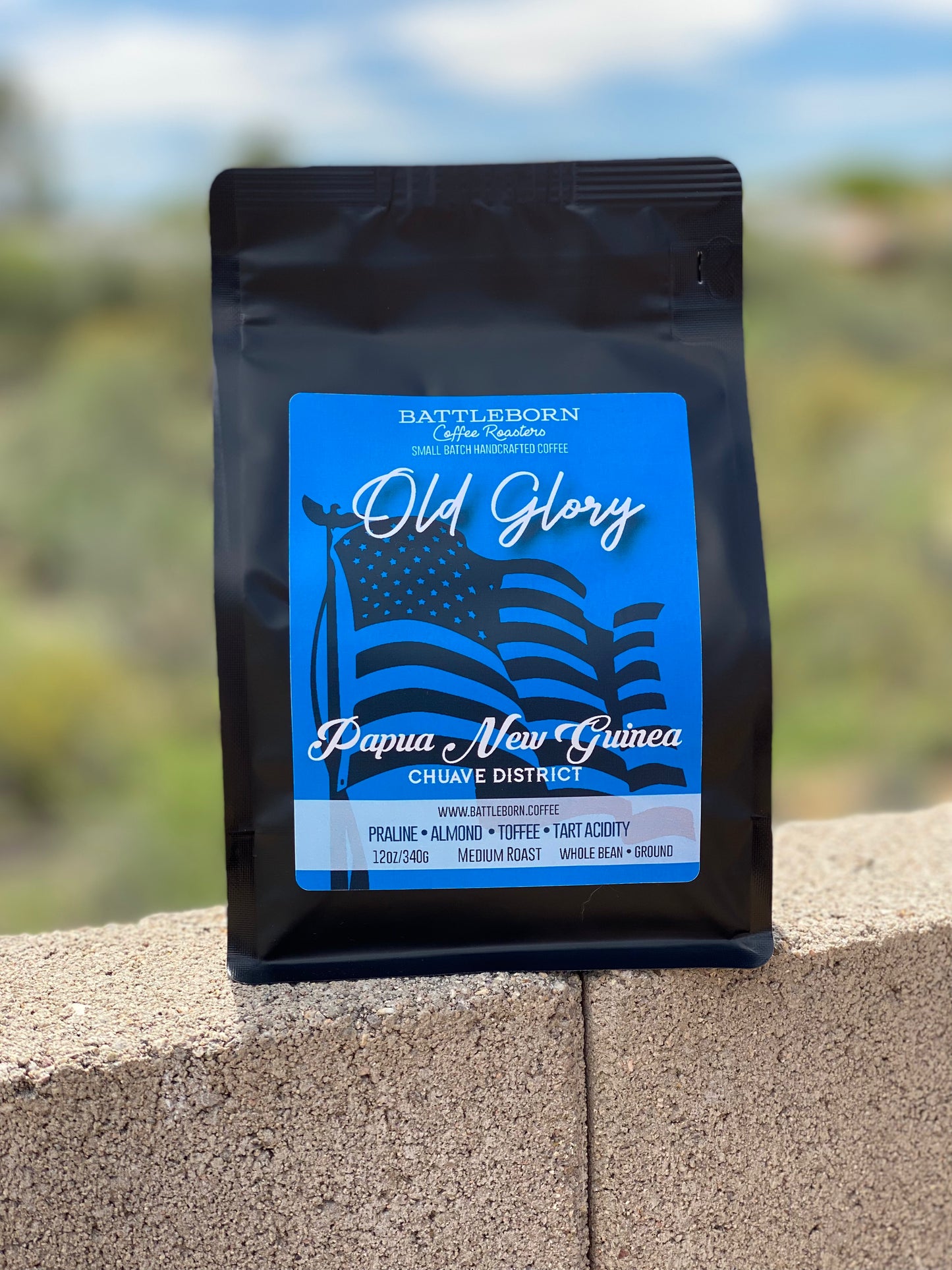 Great daily roast
We can't get tired of "Old Glory." It has a nicely-balanced flavor and is a great pour early in the morning or late in the day. Never overpowering, with just the right amount of roasted-nuttiness and smooth caramel notes. It even makes great big-batch for company in the drip maker when the press won't do. This would be a good choice if you have a mix of light-roast and dark-roast enthusiasts to serve.
First Class
I like the smooth taste. Love the flavor.
Great Coffee
Great flavor. Fast shipping. Can't complain. I'll definitely order this one again.
Red, White, & Blue Moon - Bali