The Lexington - Ethiopia - Grade 1 Heirloom
Regular price

Sale price

$17.99 USD

Unit price

per
The Battle of Lexington...where it all began.  This is when the infamous Paul Revere, and a couple other brave Patriots, made their midnight ride to warn the people around Lexington that the British were indeed coming.  Try out this Kayon Mountain Natural.  It will light up your day, like the hearts of Patriots that night, and the church tower they lit up to signal to prepare for battle!

Ethiopia...the birthplace of coffee.  Lemme tell you a story.  Back in the 9th century, Kaldi, a goat farmer had a bunch of goats.  Kaldi couldn't figure out why his goats refused to sleep and why they were always so wound up.  Then they got caught red hooved eating the cherries of a shrub.  The coffee shrub.  Kaldi takes this info to the monks.  The monks start using these seeds to stay awake for evening prayer.  Bam! Coffee is a thing!  So the legend goes.
Ethiopian coffees are widely chosen in blind taste tests the world over, and not just from coffee enthusiasts.  
This particular Ethiopia is from the Guji region and we source it from Coffee Bean Corral.  We have personally been drinking this coffee for some time.  It is a Natural Processed coffee, meaning the coffee seeds are dried inside the coffee cherry.  This allows the seeds (beans) to soak in more flavors from the cherry itself.  Natural coffees often have a more intense flavor, and this is no different.  It's an explosion of fruitiness.  This is a quality, clean, amazing coffee.  We are excited to offer it and hope you love it as much as we do!

This is an Organic Grade 1 natural coffee from the Kayon Mountain farm located in the Guji zone of Ethiopia's Shakiso district. The Kayon Mountain Farm, owned by Esmael Hassen, harvests about 300 hectares of its 500 hectare farm and uses its own wet and dry mills for processing. Elevation ranges from 1900 to 2200 meters above sea level (masl) and variety is entirely Ethiopian Heirloom.
Tasting notes: Fruity berry and floral flavors with a balanced cocoa aftertaste
**LIGHT ROAST**
Indigenous Heirloom Cultivars
Organic
Natural process
1900-2200 meters
Share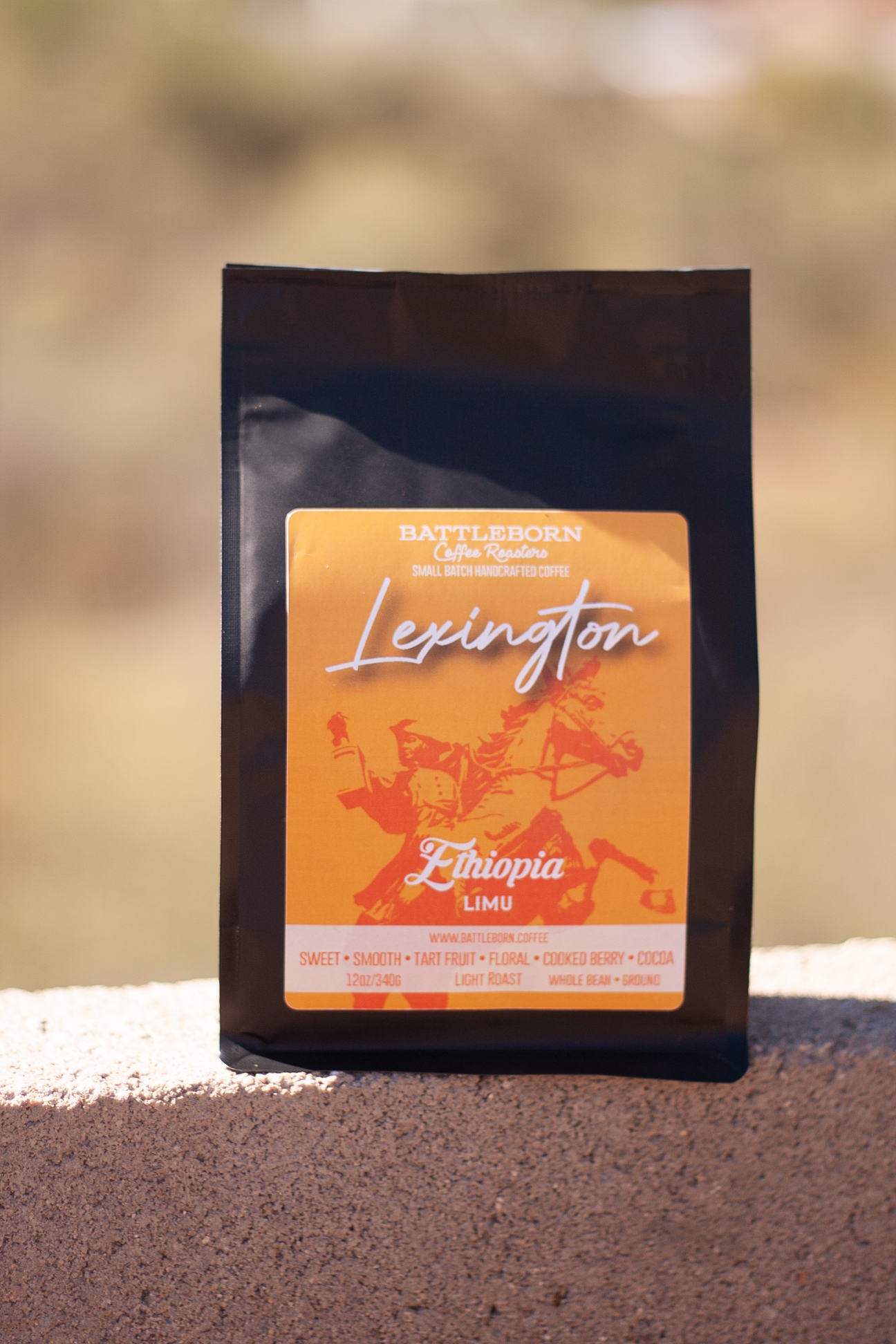 Excellent
This is a wonderful light roast. I use it in my Breville espresso machine and it makes delicious lattes. Also, shout out to Battle Born's excellent customer service!
The Lexington-Ethiopia
Great coffee! I love everything coffee and try to taste as many new and different coffee that I can. This one among other ones they have to offer is great! I suggest to try this out even if it won't end up being your "cup of tea". It's the experience and I personally loved it!
CHECK!
Delicious just roasted coffee hand delivered. Checks all my boxes, placing another order now.